Post by Lidija Rotherford on Jul 4, 2018 23:47:18 GMT
This event is associated with the ESRPG. This means that horses, characters, and establishments registered with the ESRPG can collect XP for their entries. However, this event is open to all members, and registration is not required for participation.
---
After many, many, many years - the Aherne Marwin Stallion Show is back for a trial run! Meaning, if things go well, I will try to bring it back to its former glory and frequency.
Quick reminder - only the best stallions get the best scores! So keep your horses groomed to the very last hair on their body, make them shine like there is no tomorrow, and show me what they've got in store to contribute to the next generation of our beloved pixel horses!

---

As this is a local event, Rotherford Estate is hosting this show in an area near you! You'll not be driving more than 3 hours out of town, so the location should be reflective of your stable's home world. The show grounds should be kept simple, as it is an in-hand show, but remember, this show is returning after a long time of being away, so some celebratory decoration would be nice to see!
---

| | |
| --- | --- |
| SEASON: | summer |
| WEATHER FORECAST: | sunny until 2PM, cloudy but warm and bright afterward, chances of rain after 8PM |
| SHOW SCHEDULE: | begins at 8AM sharp, presentations finish at 7PM |
| ENTRY FEE: | $200 (per horse)(if you play with RP cash) |
---




Your character and horse must be eligible for the Local Tier to enter.
The eligible career for this show is Futurity only. However, athletes (horses) are welcome to enter for 50% XP (= 50XP for this show). Veterinarians who represent a business (such as their clinic) may enter for 100XP (and are permitted to do a health-check type of entry). ESRPG establishments (Competition stables, Breeding stables, and Business owners) may contact me via PM if they're interested in earning XP by providing more additional prizes for this show.
Horses can only collect XP once per career. Only horses clearly visible in the entry can earn XP.
Max 1 entry per member per class, for a total of 3 entries per member in the show.
Each horse may only enter once (but you may include more than one picture and a story in the entry).
Open to stallions of all breeds, and all types of characters, including fantasy.

Ponies, horses and fantasy creatures will be judged against one another. I will only be splitting the show by performance classes, not by size/shape of your equine.
Handlers may be ages young adult-elder.
Horses must be at least 4 years of age to enter. Horses younger than 4 years will be disqualified and not judged.
No WIP posts! Post your entry only when it is 100% finished.
XP can be collected once the entry is posted (it must fulfill entry requirements listed below!)
Refusals, bad behavior, or injuries shown in your entry will not affect your ability to win the show overall.
Disclaimer: By entering this show, you acknowledge that the winners of this event are determined by the event host, and based on their own criteria (see Judging). It will be judged to the best of their ability and based on integrity, however, judging is completely subjective. Results will be up to the judge's preferences and perspective.
With the exception of a forum crash on the last couple days of the show, there will be no extension for this show because we're on a schedule.
All cash play is optional! If you don't play with RP cash, you can ignore the fees and payouts.




---




All entrants receive 100XP points for ESRPG by entering this show. As this is not an ESEF affiliated show you will not be getting and Qualifying Points.
Regarding prizes I was kindly donated the big ingame ribbon mesh by
Christina
which I have recolored for the first three places. In the case of getting over 50 entries in a single class I will be creating a 4th and a 5th place ribbon for that particular class. A few more prizes come to mind to give you, but those will be posted as created. Anyone who wishes for their establishment to earn XP points can contact me to donate more prizes!
Ribbon graphics will also be provided. All ribbons are of the same size in the game, they are just sized differently on the preview below.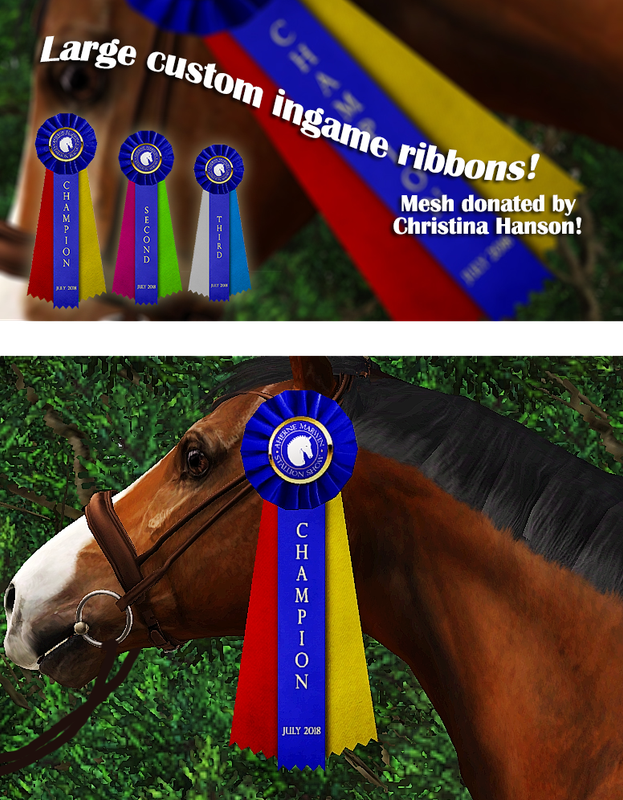 ---



You need to submit only one image for your entry, but you are welcome to submit more, but please state which one you want judged.
Horses should be fully visible in the photo (front, back, 3/4 & side angles permitted).
The entry should feel like a local show.
The entry must capture the appropriate weather mentioned in the event's details. Keep in mind of the times, so if the forecast says rain after 8PM and the show ends at 7PM you cannot make it rain sooner but it would make good story or photo opportunities for later, now would it...?
Horses should be turned out within their breed standards. However I will not score down sporthorses with roached manes for practical reasons or horses which genetically have poorer tails.
Horses should wear a nice, presentable in-hand show halter or a simple bridle WITHOUT A FLASH. Handlers should dress nicely as well. No heels or open-toe shoes! Gloves are preferred but optional.
Sand, dirt, or grass footing permitted.
Handlers don't need to visible but preferred to be visible. Keep it realistic, no 20 feet long reins.



---

I will solely be judging the show via a score sheet you will be able to request after the show closes, just like before.
I will be setting up a poll for the people's choice/fan favourite of each class after the show closes and the results will be posted on the same day, to eliminate the chance that a horse who might have won by judge's choice doesn't get a fan vote just because he "already won something".
---

Entries are grouped by class, and editing level (edited vs non-edited).


CONFORMATION CLASS
Presenting the horse's conformation in-hand.


MOVEMENT CLASS
Presenting the horse's movement in-hand walk and trot, canter should be presented off a lead with the handler in charge of the horse's direction and pace.

FREE-JUMP CLASS
Presenting the horse's ability to jump. Maximum last jump oxer height 1.40m (140cm)(4.6 feet), so no jumps set at the top of the jump wings.


---

Editing Levels

This may be determined by the judge or host if they feel an entry has been wrongly categorized for the editing level. Please read the criteria carefully before filling out your entry card.

Unedited Entries: reins, stirrup leathers, clipping fixes, color correction, and DOF/focus blur only. No painting permitted, including on the eye, mane or tail. These should look like photos taken right out of the game. Note: Quality of blur may impact judging.

Edited Entries: All editing allowed including painting and frankensteining. These can be as artsy as you want. Note: Quality and quantity of editing may impact judging.
---
[hr]
[b]Horse Name:[/b] Show Name
[b]Horse Age:[/b] Number
[b]Horse Breed:[/b] Breed
[b]Career Shown:[/b] Career

[b]Location:[/b] Country
[b]Stable Represented:[/b] Stable

[b]Class:[/b] Class Name
[b]Editing Level:[/b] (Un)Edited
[hr]
[div style="text-align:center;"] Image goes Here [/div]
[hr]

HAVE FUN!